Chirping melodies
by Tharika Goonathilake
Sri Lanka with its rich flora and fauna is a wildlife paradise, a `home' as it were, for many an elusive and rare creature. And among these creatures, one life form in particular, has caught the aural attention of visitors throughout the ages: Sri Lanka's birds.
The fascination for these `feathered kind' whose mesmerising tones have formed the base for many a folklore and legend, have captured the hearts and imagination of both children and adults alike.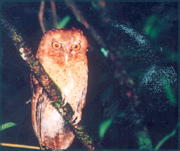 The new owl species that was discovered by Deepal Warakagoda
And among those avid enthusiasts who have made bird watching much more than a just pastime to an actual 'life long profession' is Deepal Warakagoda.
Today thanks to his commitment, even laymen now have an opportunity to experience, first hand the mesmerising sounds of these feathered creatures.
`The Bird Sounds of Sri Lanka CD,' featuring a selection of 99 species and their different `sounds', is the first audio guide to birds in the country. The CD encompasses bird recordings made by Deepal from 1999 to 2003.
The new CD, hence, is a sort of "homage to his feathered friends" since it encompasses the bulk of his research work. One of Sri Lanka's leading bird tour leaders, authors and researchers, Deepal is not an unknown entity in the `birding world.'
Deepal has to his credit many `accolades.' One among those being the discovery he made of the Serendib Scops Owl in 2001. This was a new bird species discovered in the island in 132 years.
Warakagoda, who noted the unidentified call of the new owl, tracked it for six years before he finally saw it. His descriptions of the bird, aided by the first photographs of the species, has confirmed it to be a species new to science.
No mean feat, but to Deepal, the unassuming man that he is, this discovery inspires him to further "explore the wonders of the country's avifauna and to show people, the importance of protecting habitats whilst enjoying the richness of the avifauna world."
"This audio recording is an attempt to make available the rich and diverse sounds of Sri Lanka's bird life, a homage of sort for the melodious `sound makers' around us," says Deepal about the new CD which he launched recently to entice the ardent bird enthusiasts as well as the curious first-timer.
Having been interested in bird watching since the 1980s, Deepal says that he took to recording sounds, due to difficulties in memorising varied bird sounds. Understandable, given the 439 odd bird species that inhabit the island, some as winter migrants!
A special feature of the CD is the announcement of the particular bird's names before the bird sound, for easy identification and greater understanding. The CD offers 70 minutes of listening pleasure including `bird songs' of selected species.
"There has been a great demand for a CD of this nature given the increasing interest about the country avifauna," Deepal says citing it as the reason behind the launch.
"Prior to this, I also introduced a bird song cassette, which was launched in 1997, and later updated in 2002 with the sounds of birds who have longer repertoires.
This new CD is a comprehensive directory of sort of the bird sounds heard in Sri Lanka," he says.
According to Deepal, Sri Lanka boasts of five song birds, known for their lyrical melodies: Indian Skylark, Spotwing Crush, Magpie Robin, Black Bird and White Rumped Shama.
Of these birds, the Magpie Robin takes the award for the most beautiful bird song, followed by Indian Skylark who is noted for its long repertoire. He hopes that the special CD edition will assist the listener to easily identify and appreciate the many distinctive bird sounds heard in a variety of habitats throughout the country.
There is a difference between bird songs and bird calls. Calls are short vocalisations made within a pair, family folk, to be in contact, to indicate food available, hunger (by nestlings) or warn of approaching danger.
A song is a longer sequence of notes uttered at regular intervals, mostly by the male, to establish and defend a territory or attract a mate.
Deepal also says that many birds in Sri Lanka have `musical and pleasant songs.' Those in the `melodious category' comprise larks, thrushes and robins, who are also known as `true song birds' given their complex and varied versions.
Cuckoos, bulbuls, leaf birds, chats, flycatchers, babblers are other species known for their bird songs. There is also a categorisation of ten habitat types.
Wet zone, towns, hill country, dry zone gardens, grasslands and scrubland, hill country forests, dry zone forests, lakes and marshes, wet zone forests, lagoons and saltpan as well as rural gardens, highlighting the sounds made by each area's frequent flyers.
According to Deepal, the CD is not just for the practical birdwatcher but for "anyone who has an interest in learning more about the country's rich avifauna, to appreciate the cacophony of sounds that we so often take for granted."
Living as we do in the concrete jungles, Deepal's work is perhaps a sound reminder of the beauty and harmony of our `feathered friends' orchestrated to be so in tune with nature.