Environment
by Shanika Sriyananda
Fascinated by bird sounds
Eco Personality Deepal Warakagoda
Deepal Warakagoda who grew up listening to bird tales from his grandmother and made the feathered friends his life long career, recently notched a first by releasing the country's first ever CD on chirping melodies of birds.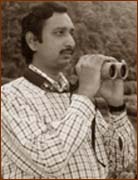 A self-taught young bird watcher, Deepal was a frequent visitor to the Biera Lake, Diyawanna Oya and Bellanwila - the Attidiya bird sanctuary. His first discovery about a bird was recorded from the Biera Lake. "It was the Indian Reef Heron, which is very rare even now. According to available literature at that time, there was no records about this bird from the wet zone and I informed the Ceylon Bird's Club (CBC) about my discovery", he recalls with pride.
Thilow W. Hossmann, Chairman CBC informed him that it was the third sighting in the Wet Zone and invited Deepal to become a member of Club. "It was a prestige and I could not believe the offer because the members of the CBC were well conversant about birds in the country. But I was a self learned man", he says.
Meeting eco activists and lawyer, Jagath Gunawardena, made his hobby worthwhile. "He is really an expert in this field", Deepal remembers Gunawardena, his first guru in bird watching with gratitude. He also joined Gunawardena in the study on Bellanwila - Attidiya Bird's Sanctuary. Contradictory features in some birds which have same appearances made Deepal to 'investigate' more on rare birds - waders, seas birds, raptors, owls and warblers. His interest in rare birds resulted in 'discovering' 15 new such migrant birds including the 'oriental plover', 'sooty gull', 'lesser kestrel' and 'lanceolatel'.
Deepal who studied electronics thought of combining his interest in birds to explore the lyrical sounds of avifauna. He merely recorded some bird sounds from the wild without sighting them. " There are two methods of identifying a bird. One is through visual and the other vocals. In 1989 I was very interested in knowing more about birds sounds and I recorded some sounds. The results were amazing. Listening to those musical calls helps one to clam down", says Deepal, who memorised most of the bird calls and is able to identify a bird by its sound without seeing it.
He released the first audio cassette with 72 birds calls in 1997, second with 43 birds sounds in 1998 and the third a CD with 99 birds sounds recently. " I recorded these sounds in their own habitats in natural conditions from 1999 to 2003", says Deepal recalling the sleepless nights spent in the thick jungles recording the mesmerising tones. Thanks to Deepal's untiring endeavour, those who love birds can now really enjoy songs of 99 Sri Lankan birds recorded in a Compact Disk - `The Bird Sounds of Sri Lanka CD', which is the first audio guide to birds in the country.
The invitation by the Oxford University Press to assist in revising the 'Guide to Birds of Ceylon', a fantasy nurtured since his younger days is a dream come true for Deepal who dubs it as one of his 'big' achievements. " The study on Aniwilundawa Forest Sanctuary by myself Upali Ekanaya and Hossmann resulted in the site be declared as the second Ramesar site. I also co-authored the 'Guide to Sri Lankan Birds and worked as the consultant to the 'Birds of South Asia' - the Ripley Guide by the Smithsonian Research Institute ", he boasts.
In 1995 while Deepal was in the Kitulgala Rain Forest, the alien call, 'POO..OO', from a very distant tree made him keep a sharp track and study the bird without sighting it. After six years, in January 23, 2001 he spotted the bird from the Singharaja Forest and it was the Serendib Scops Owl. With this discovery Deepal created history as the first Sri Lankan to identify a new endemic bird specie from the country after 132 years. The last such discovery - the Ceylon whistling thrush - was spotted by Samuel Blih in 1868.
****************
Mining in Kalpitiya : Sand dunes under threat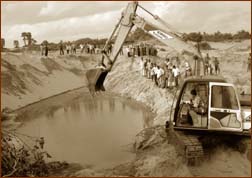 Pic. by Banduranga Kariyawasam, (Green Movement of Sri Lanka)
The banning of sand mining in river beds has driven miners and those in the construction industry to exploit sand dunes in the Kalpitiya Peninsula, causing irreparable damage to the area. Eco-groups are up in arms over this large scale, indiscriminate mining, which is done without any Environmental Impact Assessment (EIA) or recommendation from the Geological Survey and Mines Bureau (GSMB).
The Eco groups allege that some powerful politicians were behind the operation. Excessive mining of the dunes has already damaged the age-old sand formation that acts as a wind barrier in the area. While the authorities responsible for the conservation of the eco-system of the area are passing the buck, lorry loads of dune sand is being transported from these areas to Colombo and other parts of the island, daily.
The large-scale removal of sand from dunes in the Kalpitiya peninsula and the sea belt from Udappuwa to Palavi in the Puttalam district of the North-Western Province has caused serious damage to the eco-system as well as to the livelihood of the villagers, who mainly depend on agriculture. Due to this, the villagers of Kalpitiya Peninsula now fear that they may lose their lands.
Hemantha Witanage of the Centre for Environmental Justice (CEJ) who has requested the Minister of Environment and Natural Resources to take prompt action to stop the illegal mining, blames Ministry officials for issuing a large number of permits for sand mining to supporters of a certain political party. "We wonder how politicians issued these permits by-passing the existing laws of the country, which clearly state that an EIA is mandatory for sand mining in sensitive areas", he asks.
The major income generator for most of the families living in these areas is crops such as chilli, batana (Pumpkin), onion and other low country and upcountry vegetables. Some depend on fishery and tobacco cultivation. Half of the country's chilli and vegetable harvest comes from these areas, despite the prevailing water shortage.
According to Witanage, the water table in the peninsula and surrounding area is very unstable and is mostly saline, except for a few feet of freshwater layers, due to seepage of sea water and water from the Puttalam lagoon. "In most areas the fresh water layer is only about one foot and farmers use this water for agriculture at intervals. And the water table is already polluted due to the frequent use of fertiliser and pesticide. Due to this nitrogen level in water is high in these areas", he says warning that the damage caused by sand mining would destroy the existing vegetation and the sand dune ecosystems in the area.
Sources at the Environmental Ministry claim that the EIA should be done by the North-Western Provincial Council prior to issuing the permits for sand mining projects such as inland mining of cumulative areas exceeding 10 hectares or mechanised mining and quarrying operations of aggregate, marble, limestone, silica, quartz and decorative stone within a kilometre of any residential or commercial areas.
An approval from the Geological Survey and Mines Bureau (GSMB), based on the environment impact assessment of the area, is also needed to commence sand mining.
"Dune sand is not an environment friendly alternative for the construction industry as this will create major environmental problems especially in water sensitive areas such as the Kalpitiya peninsula and its surroundings", Witanage points out, stressing the urgent need to introduce alternatives for river sand. "We also believe that there is a big problem in meeting the sand demand of the country. But dune sand is not the best option", he says.
However, the CEJ blames the Ministry for allowing those with permits to mine river sand, to mine sand from the dunes. "These permit holders are not registered as hardware owners and do not have mining licences and this is a violation of the provisions of the Mines and Mineral Act No 33 of 1992", Witanage claims.
Witanage alleges the Geological Survey and Mines Bureau (GSMB) has already issued more than 1000 trading permits and more than 5000 transport permits to transport sand from anywhere in the country.
The Minister of Environment and Natural Resources, A.H.M. Fowzie told the 'Sunday Observer' that sand in the particular area have been mined extensively during the past two years and accused the North-Western Province Environmental Authority of being blind to the issue. According to the Minister, the Authority has the power to stop the illegal activity. "But it goes on unabated. I asked for a report from the CEA", he says adding that he is not in a position to do anything prior to the CEA's report.
Meanwhile, following a report by a team of officials of the Coast Conservation Department (CCD), its Director Dr. R. A. D. B. Samaranayake directed the DIG North-Western Province to take immediate action to arrest the illegal sand miners, last week. "We got a large number of complaints about sand mining operation in Kalpitiya and other areas, which will severely affect the entire coastal environment in the area.
So it should be stopped", he stressed.
The CCD has already lodged a complaint with the police. "It is illegal and police should arrest illegal sand mining ", says Dr. Samaranayake, who attributes the main cause to a shortage of river sand following the banning of sand mining in rivers in some areas. "It is time to encourage off-shore sand mining, which is 20 metres in depth, to meet the increasing demand for sand in the country. Off-shore sand is ideal for construction after washing", he says.
Saman Senanayake, Director, Provincial Environmental Authority (PEA) of the North-Western Province confirm that there was severe damage due to mining of sand dunes, which protects inland vegetation and acts as a wind barrier, blamed the GSMB for issuing licences for sand mining and transportation.
According to him, provincial PEAs are not vested with powers to deal with excavation, exploration or transportation of sand or minerals. "Under section 28 of No. 33 of Mines Bureau Act no one can mine, excavate or transport any non-renewable resources such as sand and mineral without a permit from the GSMB. Even a rock of your own garden cannot be blasted without their permission. Therefore, the GSMB should take legal action against those who do mining without a licence from the GSMB", he point out.
Senanayake said that EIAs can be done only for prescribed projects but not for each and every site that mine sand. "Some have requested us to issue 'Site Clearance Certificates' but we cannot do so because these sites are in high sensitive areas", he added.
He also said that he will be meeting Minister Fowzie, along with Chief Minister Athula Wijesinghe next week to discuss what action should be taken to stop this massive damage.
University of Tennessee, USA.
****************
Spotlight on the sloth-bear
The sloth-bear, one of those rarely seen enigmas of the dry zone jungles, is the only species of bear found in Sri Lanka. It is also found in the low-elevation forests and foothills of India, Nepal and Bhutan.
Sloth bears belongs to the family Ursidae of the mammalian order Carnivora. They are medium-sized animals with shaggy black fur and special adaptations for feeding on termites. These include large protrusible lips, nostrils that can seal shut, a missing pair of middle upper incisors, and powerful forelimbs and claws for digging.
The subspecies of the sloth bear (M. ursinus inornatus) is endemic to Sri Lanka. The sloth bear is listed as "vulnerable" by the IUCN, although data on the bear's population status for most of its range in scarce.
Despite its reputation for vicious, unpredictable behaviour the sloth bear is essentially a shy, retiring animal, preferring wild habitat relatively free of human activity. As human populations grow and forests are cleared, the range of the sloth bear has shrunk. Existing sloth bear populations, including those in Sri Lanka, are becoming increasingly fragmented. The bear has now disappeared from most unprotected areas and some protected areas of its former range in Sri Lanka.
The Sloth Bear Study at Wasgomuwa
In 2002, we began the first radiotelemetry study of sloth bears at Wasgomuwa National Park in Sri Lanka. The study was endorsed by the Department of Wildlife Conservation and the Ministry of Environmental and Natural Resources, and supported through several grants to the University of Tennessee. The objective of the sloth bear study was to learn more about this rare animal and identify key biological requirements affecting its survival and distribution.
Sloth bear home ranges at Wasgomuwa average a few square kilometres and are much smaller than those reported for sloth bears in Nepal or India.
The Sri Lankan sloth bears are smaller than bears on the mainland - males and females average 75 kg and 58kg respectively and are on the smaller end of the weight range for sloth bears on the Indian subcontinent.
The bears at Wasgomuwa also have considerably shorter hair than the Indian and Nepalese sloth bears. Termites are the mainstay of the sloth bear diet at Wasgomuwa, but the pods of a small tree Cassia fistula, are a close second. The tree producers pods during February and March. By late March, the pods ripen and turn black and will remain edible until October or even November if the monsoon rains are late. During the peak of the drought, the bears may subsist solely on Cassia fistula.
Telemetry can provide valuable information on survival and causes of mortality. For example, a mortality sensor on a radiocollar, or signs of prolonged inactivity from a radiocollared animal, can prompt a research biologist to approach the animal.
In 2003, we lost a radio-collared adult male to poachers raising an important question about the future of the sloth bear in Sri Lanka. Despite legal protection, sloth bears are feared and routinely killed by poachers and villagers who enter sloth bear habitat to gather honey, collect firewood, fell trees for timber or clear forest for chena cultivation.
A Vulnerable Species
Both behavioral and life history characteristics of sloth bears seem to place them at special risk. Sloth bears have one of the lowest reproductive rates among carnivores. Cubs remain with mothers for as long as two and a half years, and females may take as long as three years or more between births.
Being large carnivores, they also require fairly large areas of contiguous forest for survival. In many parts of their range, sloth bears avoid areas with high human activity, and interact aggressively with humans in areas where confrontation is highly probable. Given the rapid rate of forest clearance and the increasing human pressure in both protected and unprotected areas, the future for sloth bear populations in Sri Lanka is precarious.
Can you help the sloth bear project?
Our research team is now mapping the current distribution of the sloth bear in Sri Lanka and documenting information on human-sloth bear conflict. The objective of this work is first, to provide a benchmark to evaluate how sloth bear populations will fare over the next few decades, and second, to identify hotspots of human-bear conflict, and look for mitigating factors.
The goal of the study is not law-enforcement but simply to gather and synthesise information that we hope will result in greater safety for humans that share habitat with sloth bears, and a future for sloth bear populations in Sri Lanka.
Our work takes us to rural villages adjoining forested habitat where we talk with individuals who have lived in the area for many years and use the forests regularly. They are able to tell us whether bears are still present in the area, and if not, whether sloth bears were present before and approximately how long ago. We also inquire whether sloth bears have been killed in the area, and approximately how many bears might be killed a year.
We are in the early stages of the survey and it is already apparent that smaller patches of forest seem to no longer support bear populations, and not surprisingly, most human-sloth bear conflict occurs close to, or within, protected areas. The most severely injured victims of sloth bear attacks also seem to be those who were either alone, or whose companies fled, when the bear attacked.
If you live close to an area that has sloth bears, especially if it is an unprotected area, or if you have news about a person attacked by a bear, or a bear that was killed in the area and if you live in an area that once had sloth bears, please Contact: Dr. Shyamala Ratnayake, Email:sratnayeke@sltnet.lk,
S. Ratnayake, Adjunct Assistant Professor, Department of Forestry, Wildlife and Fisheries
****************
Guide to National Parks :
Minneriya
The amasing Minneriya reservoir, which is a living testimony of King Parakramabahu's desire to not let a single drop of rain water from the sky go waste, is located in the middle of a forest with rich and diverse wildlife. This forest area is the feeder area of the Minneriya reservoir and was declared a National Park in 1997.
A small temple built in memory of King Mahasen, who built the Minneriya reservoir in 3rd century, and now hidden in the scrub jungle, is a harmonious hide out to soothe ones mind. Small streams - Batu oya, Erige oya, Thalkote oya and Kiri oya - gushing through the park with an abundance of water has attracted water birds and elephants. The diversity in vegetation of the park provides ample food, shelter and protection to a number of resident animals as well as migrants.
Encomprising 8,889 hectares, the Minneriya National Park is home to 24 species of mammals, 160 species of birds, 09 species of amphibians, 25 species of reptiles, 26 species of fish and 75 species of butterflies. The resident elephant population numbering about 150 - 200 is the main attraction of the Park. Sambars nibbling on tender leaves of short bushes and spotted deer grazing on open grasslands are common sights. The green canopy has made this park a paradise for endemic primates - toque macaque and purple faced languor. The park is also home to leopards and sloth bears.
Of the 435 species of birds reported in the country, 160 are found in this Park. Of them, endemic birds such as Jungle Fowl, Sri Lanka Hanging Parrot, Sri Lanka Brown Capped Babbler, Sri Lanka Grey Hornbill can be seen here. This is also home to Crimson Fronted Barbet and Black Crested Bulbul.
Early mornings and late evenings are the ideal time to observe the resident and migratory birds, which are found in large numbers around the reservoir and surrounding wetlands. The Park shelters a large number of aquatic bird species. A flock of about 2000 little Cormorant diving in the waters of the Minneriya reservoir is a very common and pleasing sight, that every visitor can enjoy. Among these aquatic birds are the Painted Strokes, Great White Pelicans, Ruddy Turns Tones and Grey Herons. Avifauna of the Park includes 11 species of threatened birds.
Of the nine species of amphibians reported from the Park, are the endemic and endangered Slender Sri Lanka Wood Frog and Sri Lanka Greater Hourglass Tree Frog. Of 25 species of reptiles living in the Park, eight including the Red-lipped Lizard are endemic. Tank Crocodile, Indian Python, Land Monitor and Water Monitor are also inhabitants of the Park. The Minneriya National Park is also home to three of the park species of endangered fish and 75 butterfly species, 15 of which are endemic and six endangered.
Being a tropical dry mixed evergreen forest with scrub, ridge forest, the Park has an open low canopy, grasslands, plains and wetland. The top canopy consists of trees such as Palu, Satin wood, Milla, Halmilla, Weera and abandoned chena are dominated by Kukuruman, Keppetiya, Wal Indi and Pohon.
Situated 20 kilo metres North-West of Polonnaruwa district the Park is 182 kilo metres from Colombo and the easiest access is via the Habarana - Polonnaruwa road. Permits to enter the Park can be obtained from the Ambagaswewa Wildlife Conservation Office, just 8.8 kilo metres from Habarana. There are no accommodation facilities inside the park.
Complied by Shanika Sriyananda, Source: Department of Wildlife Conservation.
- SS