Bird song
By Marisa de Silva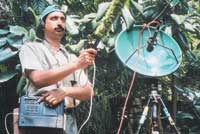 Listening carefully: Deepal at work (Right) The Bird Sounds CD Pic by M.A. Pushpa Kumara
'The Bird Sounds of Sri Lanka', a CD featuring 99 species of birds from around the island was launched recently by ardent bird watcher Deepal Warakagoda. The co-author of the book 'Birds of Ceylon', Deepal is well known in the field for his discovery of a hitherto unknown small owl species, the Serendib Scops Owl in January 2001.
The Bird Sounds CD is a perfect aid for bird lovers, especially those interested in carrying out in-depth research on birds, to recognize them solely on their sounds.
The difference between his previous audio ventures and this one is that, there is no break in the flow of bird sounds. In the previous recordings, an introduction about each bird was made before each bird sound.
Although he started off his 'birding' habit as a hobby when he was still in school, it is now Deepal's career as he works as a tour leader for A. Baur & Co., conducting bird watching tours for tourists. He is the joint secretary of the 'Ceylon Bird Club', the pioneer organization on bird study here.
Deepal explains that there are two main steps with regards to bird identification. One is visual identification, where you name a particular bird and thereby differentiate it from another.
The second is sound identification, where one could recognize a bird by its call. After much field exposure and experience, identifying birds by their sounds isn't too difficult says Deepal.
Explaining how he came up with the idea to record bird sounds Deepal said that initially he had found it hard to memorise specific birdcalls and the bird that made them. This is when he thought of combining his two interests - electronics and birding - and devised a method to record various bird sounds on the field, so that he could learn and memorise them back at home. Then came the idea that he could help other people who are interested in bird sounds.
However, these natural bird sounds have to go through a process of filtering, editing and sprucing up, before it can make it to the listener's ear. Therefore, Deepal selects the best sound made by each bird from a range he has collected over the years, and filters out any unwanted and extra background noise to make the final recording.
The parabolic reflector, (an object resembling a miniature dish antenna with a mike in the centre, facing inward) is an instrument used to pick up distant bird sounds. It screens out unnecessary sounds, leaving only that of the birds, to enable a high quality of recording. The shotgun microphone (an instrument like a feathery duster) also aids the recording process. Though it cannot filter out as much as the reflector it can produce good quality sounds.
The CD is mainly based on 10 habitats where specific birds that would best represent each habitat, for instance, the Magpie Robin from the Wet Zone near towns, the Yellow-Eared Bulbul of the hill country forests, Common Sandpiper from the lakes and marshes and the Black Winged Stilt from the lagoons and saltpans.
"Although they all sound pleasant to me, I cannot speak for everyone. Therefore, I had to pick and choose what would best suit the taste of the average listener," he said.
You need not be a 'birder' or a researcher to appreciate the bird sounds... they are wonderful for pure listening pleasure. After all, what more could you expect when nature's finest musicians are at work?
More recordings
Deepal has also in his collection the 'Drongo Nature Sounds Library' on CD and mini-disc consisting both animal and bird sounds, the only one of its kind in the country. The title Drongo was derived from the name of this very interesting bird, with a wide and varied repertoire of sounds and the unique ability to mimic other birds, he says.
Anybody interested in furthering their studies on animals or birds could have access to these recordings by contacting Deepal on tel: 2817370. 'The Bird Sounds of Sri Lanka', (73 minute CD time) is available at Eco-Rhythm Music Centre, 5A, Perahera Mawatha, Colombo 02.