Environmental Sounds in the
Grades 6 to 8
Western Music syllabuses

Birds Sounds and Singing Birds
AVAILABLE SOON!
A new educational audio album of
bird sounds in
our school and home gardens and our natural habitats.
Based


►

on the Grades 6 to 8 Western Music syllabuses,
including the birds listed in the Grade 8 syllabus,


►

and on the audio cassette tape designed for this subject
titled 'Melody and Environmental Sounds'
also recorded by Deepal Warakagoda
produced in 1993 by the Department of Distance Education,
National Institute of Education (Maharagama),
not updated since and now practically unavailable.
A good selection of musical and other sounds of the following birds is specifically included in the album amongst the 25 bird species in our gardens and natural habitats featured in it: Oriental Magpie Robin (Polkichcha), Brown-headed Barbet (Polos Kottoruwa), Asian Koel (Koha), White-rumped Shama (Wana Polkichcha), White-breasted Kingfisher (Laya Sudu Pilihuduwa), Loten's Sunbird (Ran Sootikka), Lesser Hill Myna [the present name for 'Common Grackle'] (Salalihiniya), Black-headed Oriole (Kaha Kurulla), Red-wattled Lapwing (Rath thali Kirala), Common Tailorbird (Battichcha) and White-bellied Drongo [the present name for 'Common Drongo'] (Kawuda). They are the 11 species named in the Grade 8 syllabus. The sounds for all 25 birds have been carefully chosen.
For more details please contact us here Contact
OR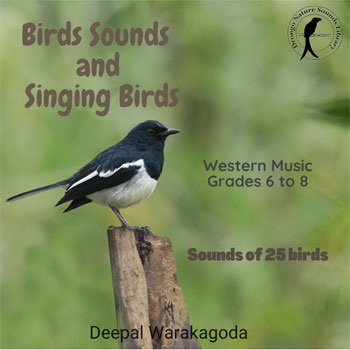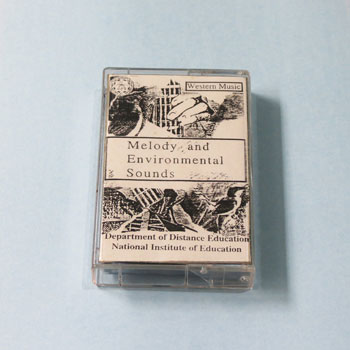 Audio cassette tape 'Melody and Environmental Sounds' produced in 1993.
Introduction (audio) in the 1993 audio cassette tape:
This is audio cassette no. 322202. The GCE O-Level syllabus in Western Music contains a section called 'Environmental Sounds' with special reference to bird song. The intention is to increase the awareness and appreciation of live bird song in Sri Lanka. In keeping with this idea module no. 322202 has been produced under the title 'Environmental Sounds' to be used as self-learning material by the students following the Distance Teacher Education courses in Western Music. This audio cassette no. 322202 accompanies this module. Please study the module. Listen to the cassette too. After reading each short note given about a particular bird listen to the natural bird song. I am sure you would enjoy listening, and this would facilitate your learning, too.