SRI LANKA NATURE SOUNDS
Welcome to the world of
natural sounds of tropical South Asia!
Sri Lanka Nature Sounds is the only nature sounds archive in Sri Lanka. In this Library high-quality recordings of the sounds of its natural habitats and their birds and other animals have been made available, for over two decades for educational purposes, for recreation, and as a background for relaxation, by eminent local wildlife sound recordist Deepal Warakagoda.
The archive comprises a large number of bird sounds and sounds of other animals from Sri Lanka, India and few other countries, for example Taiwan. Recordings of soundscapes from wildlife habitats in several countries have now become a major part of the growing collection.
The recordist and archivist, Deepal Warakagoda, is also a nature tour leader and experienced in arranging and handling sound recording trips for visiting foreign wildlife sound recordists to capture tropical nature soundscapes.
His wildlife sound recordings are featured in the publications shown below and on other pages of this website. Sample audio clips from the archive can be heard on the page titled Sound Recording Trips.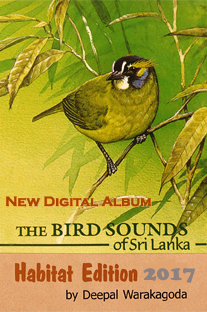 Now available: New Digital Album The Bird Sounds of Sri Lanka, Habitat Edition 2017