A DOWNLOADABLE
MP3 ALBUM
The Bird Sounds of Sri Lanka
Habitat Edition 2017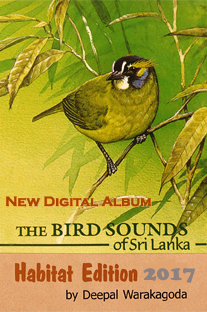 New Digital Album
152 species of birds featured
in 8 different soundscapes of natural habitats.
This is a newly created, digital replacement of the landmark cassette tape titled 'The Bird Sounds of Sri Lanka: Habitat Edition 2005' published that year. It is a downloadable digital album in MP3 format (high audio quality MP3 digital files).  Significantly improved in sound quality, this new digital version will provide you unforgettable enjoyment as you listen to our beautiful bird sounds.
The album features over 250 different sounds of 152 bird species, and plays for over 2 ½ hours.
It comprises eight tracks, each 8 to 35 minutes long, of bird sounds, in eight different habitats. Some songbirds with melodious vocalizations are featured for a longer time. A brochure provided in the form of a printable PDF document offers a guide to identifying the different bird species heard on each track.
The MP3 album can be used either as a
'sound guide' to bird identification, or a
bird 'soundscape' for ambience play (to provide background or atmosphere at home, work, in a vehicle…)
The MP3 album can be played in many ways:
on your computer,
on your personal portable music player (i.e. MP3 player, iPod, iPad, iPhone, Smartphone…), on an iPod audio docking station,
on a MP3-supporting CD player in a car audio system,
or such a DVD player of your home theater system (by making a MP3 CD with a suitable computer software),
on such systems that support USB for audio play (by loading the album on a flash pen drive), and
on any audio system that supports Bluetooth (with the album loaded onto a suitable portable music payer or a smartphone).
Listen to samples of the eight sound tracks featuring some of the soundscape of each habitat, below.
Price of the Album: LKR. 1350/-
Listeners' comments
"Congratulations on a wonderful production. While listening I was transported to the individual habitats, and it was a pleasure,…"
Cheryl Silva
"I've started listening to it and it sounds great!…"
A listener
"WOW it was so relaxing. At the first listening it was really in good quality. I just listen to it only once and I like rain forest friends best."
Madhubhashini
"Listened to some of them. No words. Superb work. Takes you to the actual habitat."
Gehan Rajeev
"I was listening to your album and it is awesome. And the sounds are of good quality and clarity."
Binara Athukorala​​
"A great collection of Sri Lanka bird calls. Enjoyed listings to it during a busy work day. Helps one to relax and transports you to each of the habitats instantly. Sound quality is excellent. The ability to have it on my phone and multiple devices is very useful…"
Ayanthi Samarajewa
"…my passion is going to the jungles and photography, and recently I haven't been to the jungles in a while and when I first played your bird sounds Habitat edition I really had the feeling as if I am in the jungle that feel like in Sinharaja forest …..actually I played it in my work place I felt every energized even with my busy schedule some of the visitors even made inquiries on how to get this …so it was a wonderful experience and thank you for doing something like this …"
Palitha Antony
"…had a chance to listen to your Sri Lanka bird song set. It's really fabulous. I closed my eyes and was immediately transported back to your wonderful country. I must say you have done a great job editing and presenting the recordings so the listener can also hear each species very clearly. And you did a fantastic job, as always, of recording everything with such very high quality.  Fantastic job. This set will help others understand why birding in Sri Lanka is such a great experience,…"
Tom Stephenson
(An avid world birder and bird sound recordist, award-winning author of innovative publications and apps on bird identification, as a musician worked with many world-renowned and award-winning artists, and the former Director of Technology at Roland Corporation USA).
"…It's very nice and very much natural…"
Samantha
"I have listened to most of the tracks and I am very impressed with the quality of recordings.
The tracks I enjoyed the most are birds of the marshes/lagoons and night birds of the Dry zone mostly  because water birds and owls are my favorites…"
Anouchka