Blue-throated Flycatcher Cyornis rubeculoides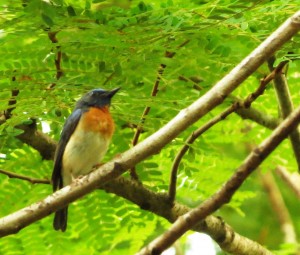 I had been looking for a Blue-throated Flycatcher in Sri Lanka for a very long time as it had been known as an extremely rare migrant here. Due to the close resemblance of the male Blue-throated in the general appearance of plumage to the resident Tickell's Blue Flycatcher (Cyornis tickelliae) a male can easily be overlooked by being mistaken for the latter in the field. Thus, a rare occurrence of a Blue-throated in the country can possibly go unrecognized and unrecorded. This may have been the reason why this migrant flycatcher did not come to our attention in the past many years.
Early last year there was a pair of Blue-throated Flycatchers photographed in Wilpattu National Park. But I had no chance to visit the site. Then in October of the same year I very closely missed one in South India, which was moving in a small 'bird wave' seen by my colleague Uditha while photographing birds at a site where I was too busy recording bird sounds. On our subsequent search for the bird there we failed to find it again.
Thereafter, on 12th January this year on a visit to a forest patch in Tanamalwila I noticed a small flycatcher capturing insects near the ground. Close observation of this bird revealed that it was a male Blue-throated Flycatcher! I was thrilled. Finally I had managed to find one by myself. I managed to get a few photographs and make some recordings of its songs on the second visit to the site on 14th.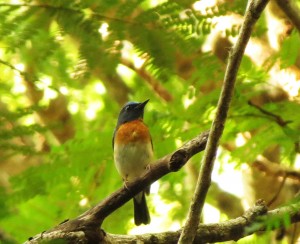 The two photos above feature the male I came across on the first occasion.
Its songs are reminiscent of the song of Tickell's Blue but richer and more "musical", and varied too. The sound clip below features a couple of songs of the Blue-throated, that from the recordings I made.
Although I spotted the flycatcher closely at two sites and managed to get a few photos on both occasions, on my second visit I did not realise that actually two males were involved in the sightings. My fellow birders (and bird photographers) Dulan Ranga, Gehan Rajeev and Uditha Hettige who visited the site later found that there were two males. It was confirmed by the difference in their markings seen in the very good photographs they took.
On my third visit to the site on 25th January, together with Palitha Antony and Gehan Rajapaksa and my family, I managed to make out the two birds by the small differences in their plumage. Below is a (poor) photo I was able to take of the second male.