Bulbuls awakening
Chirping Red-vented Bulbuls (pycnonotus cafer ) in my vicinity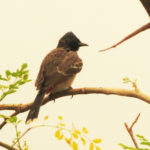 I couldn't to attend to record much of bird sounds in my garden during last few years. Noise in the environment, particularly man-made, has improved a lot and it makes great difficulty now taking a clean recording over even a minute! I have been listening to the chirping of Red-vented Bulbuls (pycnonotus cafer) in early morning last several days and thought to capture their early morning rather soft chattering sounds soon they have flew out their night roosts. A small gathering of them on tree at a boarder of my garden provided the recording below. Soon most of them fly away to their usual feeding areas leaving the few pairs staying in my area.
Calling of the bulbuls captured next day at the tree they gather.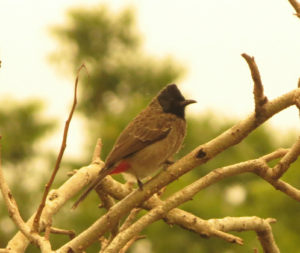 A bird of the resident pair in my garden on the 'gathering tree'. (Photos by DW)
A couple of pairs retaining in the area keep calling from tree tops in vicinity, before they descend for their breakfast for the day.