White-throated Kingfisher singing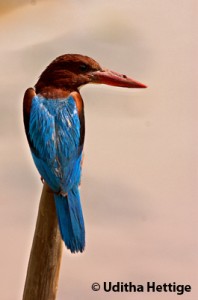 White-throated Kingfisher (Halcyon smyrnensis), photo by Uditha Hettige.
A male White-throated Kingfisher (Halcyon smyrnensis) has been singing almost every day from tall tree tops in and around my garden since early last month (March). This male was trying to attract a female while establishing a territory for breeding. Its regular 'song posts', of which it sings at each post for a considerable time, are fairly wide apart but most of them can be seen easily from my garden.
I observed a female came on and off to one of the trees where the male was singing from and started displaying to male with its wings spreading out showing distinct white patch in the wings.
I assume the male has now paired out with the female and nesting somewhere within the territory which male has established as now frequency of singing of the male has reduced a lot. The White-throated Kingfishers do not sing like this outside their breeding season.
Sound track below features song of the male kingfishers, recorded on April 29.
Deepal Warakagoda,  04 May 2012.