World Rainforest Day 2022 – 22 June
Today is the sixth World Rainforest Day. Highly biodiversity-rich Sinharaja rainforest is one of our most important Rainforest Forest Reserves in the country, which is also a World Heritage Site. During my visit to the rainforest in February 2022, just before the country was closed down due to Covid 19 pandemic, I captured voices of the animals waking up at dawn there. Below is an excerpt of a long audio track of a recording I made at periphery of the forest where I stayed.
Species in foreground and background of the audio track: Insects, Square-tailed Bulbuls, Purple-faced Langur, Sri Lanka Hill Myna, White-throated Flowerpecker, Black-capped Bulbul, Green Imperial-pigeon and Orange-billed Babbler.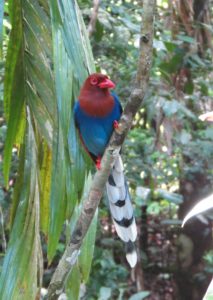 One of the loud and interesting voices in Sinharaja rainforest is of the endemic Sri Lanka Blue Magpie. This fairly large and very beautiful bird utters some of the unforgettable sounds in the forest. Below is an excerpt of the Sri Lanka Blue Magpie in the 'Birds of the Rainforest' track in 'The Bird Sounds of Sri Lanka. Habitat Edition 2017' digital audio album, that I have recorded at Morning Side in Sinharaja rainforest in June 2002.
Deepal Warakagoda, 22 June 2022